DDR Professional - Files Recovery

DDR Professional Files Recovery Software facilitates recovery of deleted and accidentally misplaced data from all major fixed and USB removable media drives. Complete file recovery solution salvage data from Desktop/Laptop Hard disk, USB drives, SD cards, Picture cards, MMC cards, Flash drives, Digital camera, Mobile phones, External Hard disk etc. Data undelete utility even restore files from such USB media that are operated on Mac operating systems.
Data recovery program works with popular Hard disk brands including Maxtor, Seagate, Olympus, Toshiba, Samsung, Hitachi, Fujitsu, Western Digital etc. Utility even compatible to well-known USB media brands like Sony, Lecai, Lexar, PNY, Transcend, Kingston, Fujifilm, Nikon, Kodak, Moserbaer and more.
DDR Professional - Files Recovery Screenshots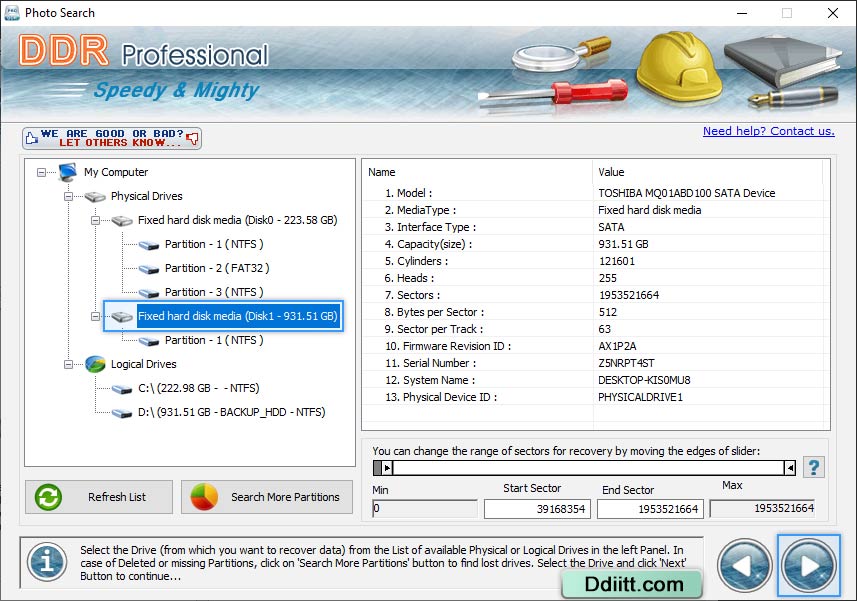 Software Features :-
Software provides recovery of lost or deleted data from all major Hard disk and USB Removable Media drives.
File recovery software scans data storage drive and undelete files (even with log file names of any size).
Featured data restoration program effortlessly restores missing, lost or deleted files and folders.
Save recovered files at user specified location on the system.
Common data loss incidents :-
Human errors (mistakenly formatted media),
Virus corrupted or deleted files,
Accidental deletion (Shift+Delete operation),
Improper media device usage (USB drive removed during working mode),
Unexpected System Shutdown,
Accidentally deleted files and folders, Hard disk crashes,
Emptied recycle bin folder, Frequent disk format, Operating System failure,
Data deleted using Shift + Del key, Improper system shutdown, Software crash or multifunction,
Partitioned or repartitioned hard drives.