Sim Card files recovery software by Pro Data Doctor offers unique solution to recover accidentally deleted, lost data including phone numbers, text SMS from your Mobile phone SIM card. Recovery of SIM card data salvager software allows users to retrieve and back up all important numbers along with the names from mobile phone sim card memory even if sim card is blocked.
Safe and reliable GSM technology based SIM card rescue application wizard ensures the recovery of messages which gets corrupted due to the presence of virus in your mobile phone device.
A "sim card reader" (PC/SC Standards or Phoenix Standards) is required to be connected on USB port to scan sim card on your PC in order to fetch the lost phone numbers and messages from cell phone sim card memory. Sim card recovery program restores lost data and retrieved information in well formatted form at desired location.
Sim Card Recovery Software Screenshots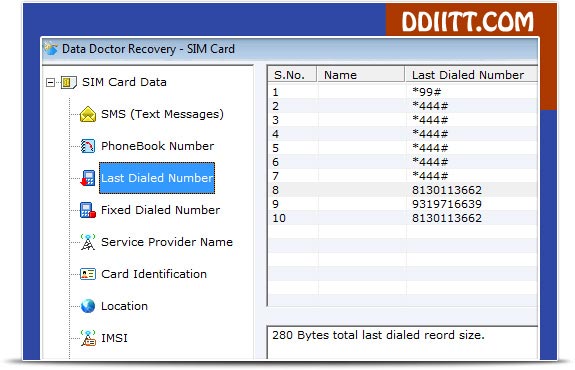 Software Features :-
Provides 20 digits ICC Identification number printed on the sim card along with service provider name.
Complete information of unique IMSI number associated with the network of mobile phone user.
Easy to use software supports to read GSM sim card of any country with any network services.
Sim card forensics software easily retrieves data even if sim card is not detected by your mobile phone device.
Recovers encrypted and unreadable text data corrupted due to virus infection in your phone sim card chip.
Easy to use hence no technical knowledge is required to run or operate the software.
User friendly interface for quick data recovery.
Software Recovers :-
Recovers deleted Phone book numbers from sim card along with contact names.
Recovery of erased or deleted Inbox SMS from sim card memory including unread SMS with specified date, time and location of the message sent.
Retrieve outbox later sent SMS from your sim card.
Undelete all deleted SMS (short message service) from sim card memory in easiest way.
Quick retrieval of all deleted contact numbers lost due to corrupted mobile phone sim card.
Regains last dialed and fixed dialed numbers from sim card memory of your phone.