Zune files recovery software safely recovers accidentally formatted, deleted music, pictures, images, audio and video files from Zune media player without any additional data loss. Software allows you to enjoy uninterrupted services from Microsoft zune music player by retrieving corrupted, damaged files and folders due to various threats like virus infection, hardware malfunction, human error or improper handling of digital music player.
Zune file rescue wizard gives preview of recovered files before actual recovery and allows you to save retrieved data at specified location. Zune data salvager program retrieve files lost while transferring data using through Wi-Fi technology connectivity from one zune media player to other.
Zune Files Recovery Software Screenshots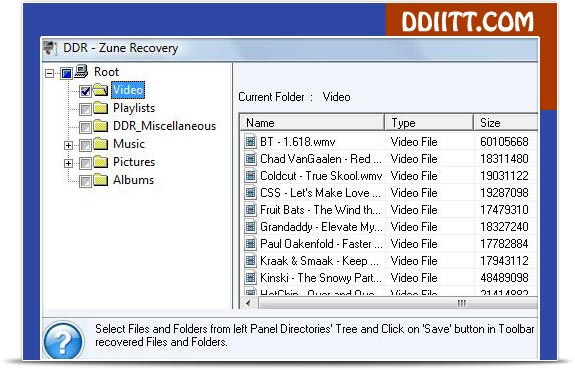 Software Features :-
Recover lost or misplaced music, audio, video files and folders by zune users due to lack of device operation knowledge.
Restores data even if 'disk not detected' error message is shown while accessing zune media player on PC or Laptop-Desktop system.
Regains files lost while transferring data through wireless (Wi-Fi) communication.
Restore playlist in its earliest order after recovery from crashed zune music player.
Provide back up of all corrupted files lost due to virus infection, human error etc.
Undelete damaged, unreadable or frozen files and folders stored on Zune media player.
User-friendly GUI and easily operated by non-technical users.